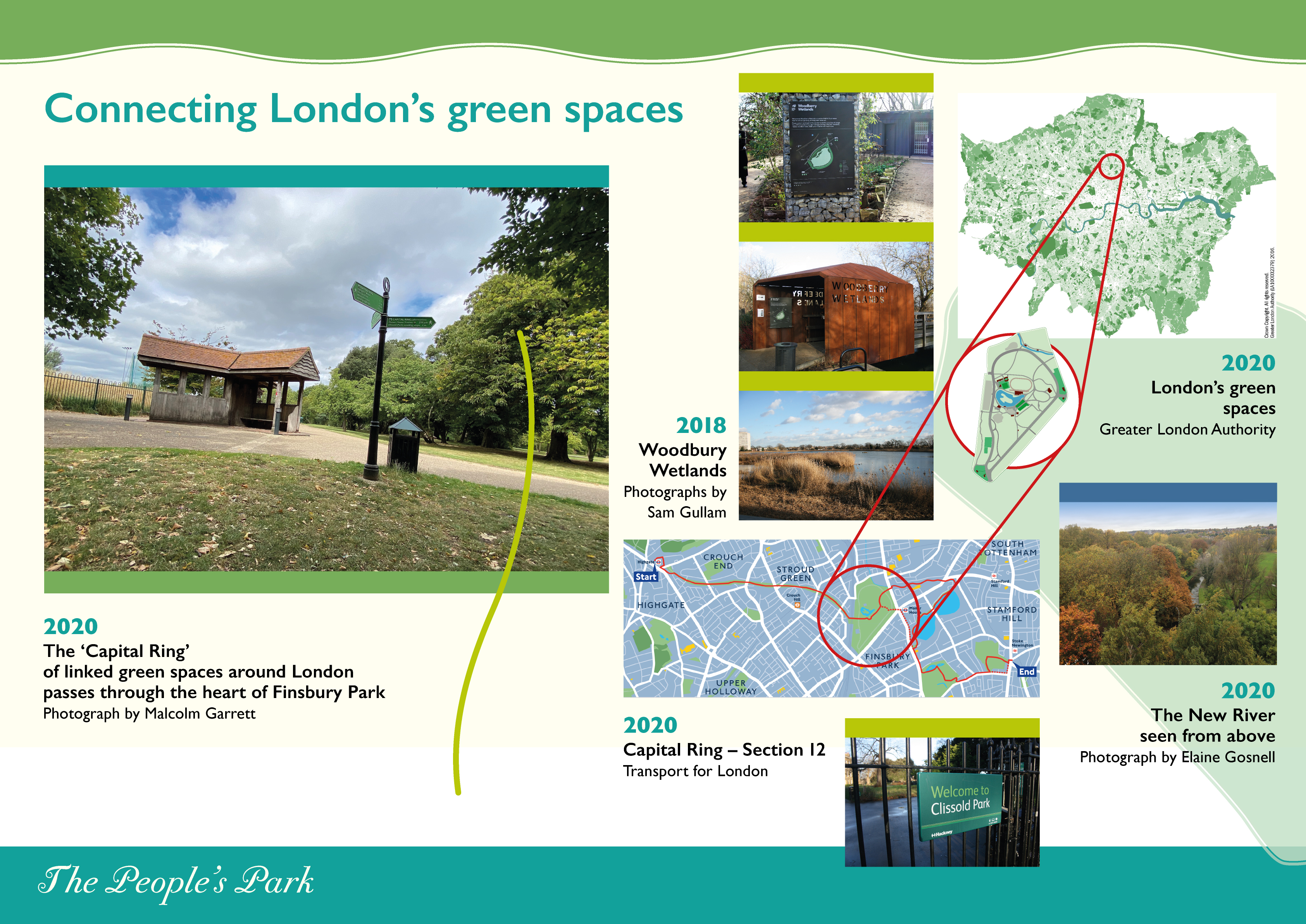 15. Connecting London's green spaces
Finsbury Park occupies a central place in the network of connected green spaces in the capital.
The Capital Ring is a walking route that circles the whole of London in a total of 15 walks, promoted by local Councils and Transport for London. Walk 12 starts at the Priory Gardens entrance to Highgate Underground station and follows the Parkland Walk past Crouch End to Finsbury Park. After crossing the park (and encountering the Capital Ring signpost in the centre), it follows the New River past the Woodbury Wetlands (formerly Stoke Newington reservoirs). It then crosses Clissold Park and Abney Park Cemetery before reaching Stoke Newington railway station.
The All London Green Grid is a policy framework to support and promote London's network of green spaces taking account of its importance for recreation, healthy living, reducing flood risk, improving air quality, cooling the urban environment, encouraging walking and cycling, and enhancing biodiversity and ecological resilience. Finsbury Park lies at the north-eastern edge of the Central London sub-region, described in the foreword to the Area Framework document as "the greatest challenge within the All London Green Grid … the zone which will decide the economic vitality of the future."
As we address the urgent needs of local communities with housing, jobs, cycling and transport infrastructure, it is important to remember those benefits of green space for the local community and for the city as a whole.
The Capital Ring passes through the centre of Finsbury Park and offers walking routes that connect with the Parkland Walk to the north or head east to the recently opened Woodbury Wetlands Nature Reserve, then onwards to Clissold Park – and beyond...
Walking guides for the entire Capital Ring can be downloaded here.
did you know?
... London is undoubtedly one of the world's greenest cities. It has 3,000 parks, 30,000 allotments, countless playing fields, extensive woodlands, nature reserves, city farms, riverside and canal walks – all spaces that contribute to London's enviable green landscape.
The People's Park: augmented reality
As part of the exhibition we have created an augmented reality trail which you can access by using your smartphone to scan the QR code on the boards in the park. This allows you to explore a host of questions and images linked to the themes and stories on the nearby boards.
This sign, which you can find in the park, signposts the way eastwards on the Capital Ring route.