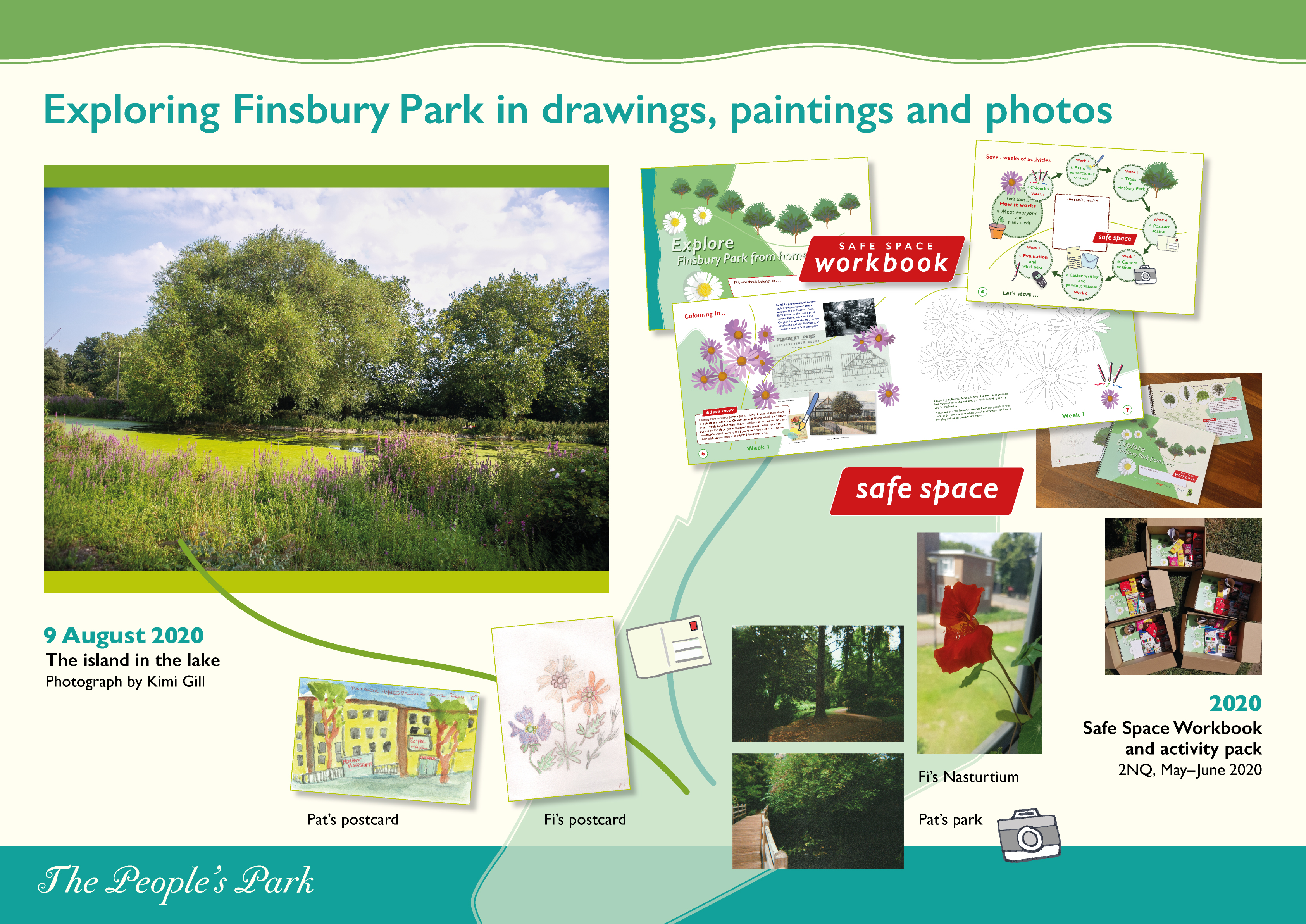 14. Exploring Finsbury Park
Safe Space was a seven-week series of art workshops for people fromall three boroughs, designed by 2NQ as part of the People + Heritage programme. Originally intended to take place in the Art Hut in Finsbury Park, it was completely redesigned as a remote exploration of the Park that works equally well during lockdown and after 'normality' returns.
The workshops took the form of weekly sessions delivered online, with guided tutorials from 2NQ's Katy Hawkins and Simon Poulter, and featuring special guests such as Julie Melrose from Bruce Castle Museum and Archive, Nicola Baird and Kimi Gill from Islington Faces, and @TheStreetTree's Paul Wood.
The participants – who included people in care homes, carers and older people living at home, those without the internet joining via landline – each received a box through the post containing an action-packed spiral-bound A3 workbook containing seven weeks' worth of creative, mindful activities plus lots of facts and curiosities about the Park. Along with the workbooks were all the materials needed to complete the activities: paints, colouring pencils, a disposable camera, a seed to pot (and nurture), postcards, envelopes, stamps, biscuits, tea bags and more.
Project manager Katy Hawkins recalls how Safe Space brought everyone together in a productive and meaningful experience:
We shared our memories of the park, made postcards inspired by its history, coloured in images of chrysanthemums – inspired by the former Chrysanthemum House – and painted pictures of local elms.

"In between, we set challenges to research, to notice, to explore, unearthing and sharing even more interests along the way. Finsbury Park used to have a Speakers Corner, so we all got on our virtual soap box and shared a passion relating to green space with the rest of the group.

"We had a great time developing and running the project and made some real friends along the way. The evaluation showed the project to be an overwhelming success and we hope we can do it again soon."
The People's Park: augmented reality
As part of the exhibition we have created an augmented reality trail which you can access by using your smartphone to scan the QR code on the boards in the park. This allows you to explore a host of questions and images linked to the themes and stories on the nearby boards.
What flower is this that was painted in the Safe Space workshops? (Clue: Give me your answer, do!)