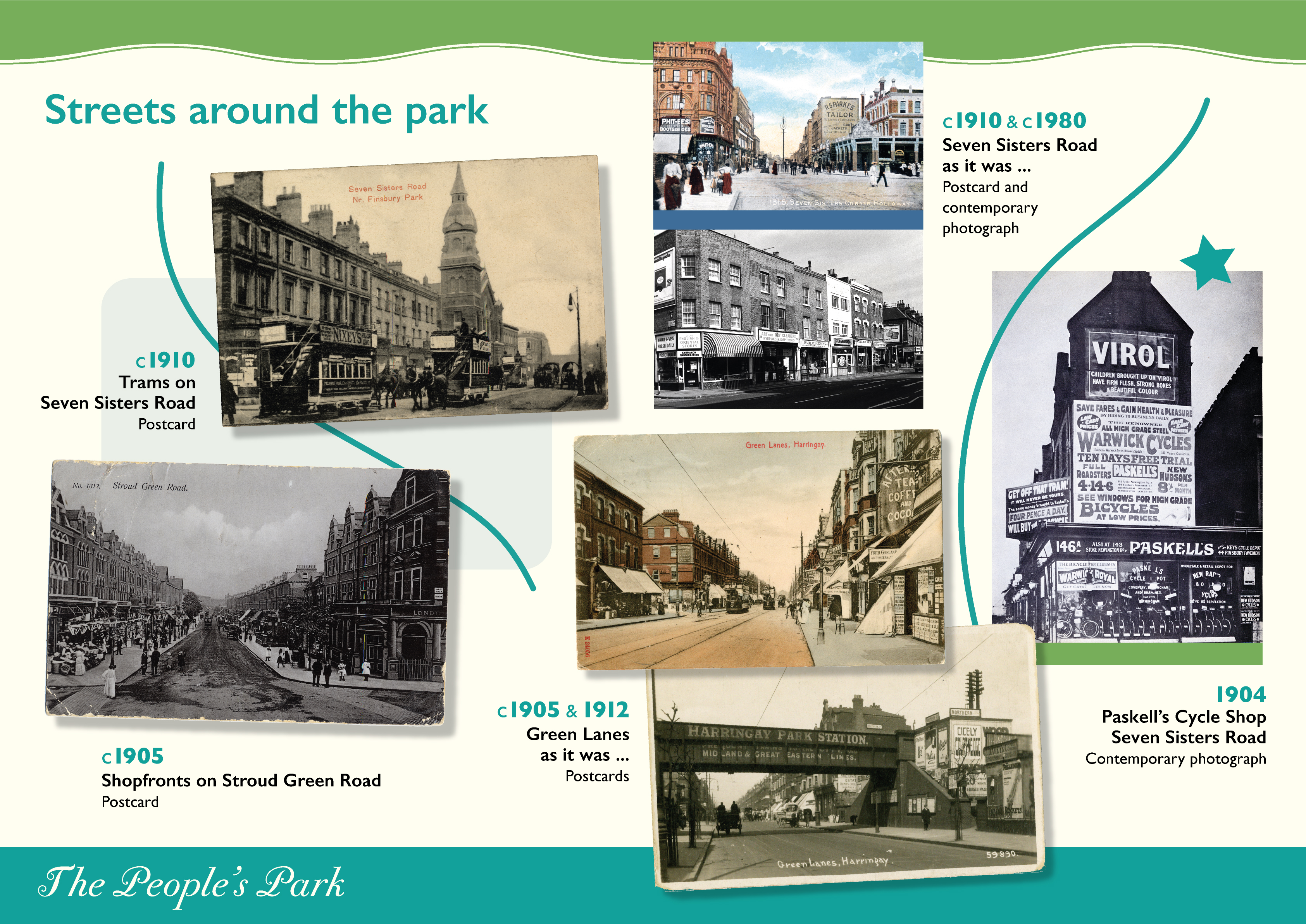 03. Streets around the park
Finsbury Park lies next to the East Coast mainline from King's Cross to the North of England and Scotland. The Great Northern Railway was built in sections during the 1840s and 1850s. Seven Sisters Road station – now known as Finsbury Park station – opened in 1861. The shape of the Park and the line of the railway have created the distinctive character of local neighbourhoods.
On the eastern side, the Park is linked up to Tottenham by Seven Sisters Road – so called after seven sisters who purportedly planted seven elm trees at Page Green in 1619. That tree-planting exercise has become a tradition and was repeated in 1886, 1955 and 1997.
On the western side, Stroud Green Road dates back to 1546, named after a marshy land overgrown with brushwood known as 'Strowde Grene'. Around 1870 there are mentions of the Stroud Green Nursery and Athelstane Villas, both on Stroud Green Road in the public records. No. 1 Athelstane Villas was better known as the Earl of Essex pub.
The age and origin of Green Lanes on the northern side is somewhat uncertain. It may well date back as far as the Roman period, and was most likely a drovers' road along which cattle were walked from Hertfordshire to London. It is one of the longest streets in London.
The People's Park: augmented reality
As part of the exhibition we have created an augmented reality trail which you can access by using your smartphone to scan the QR code on the boards in the park. This allows you to explore a host of questions and images linked to the themes and stories on the nearby boards.
The Elm trees below depict an important local story – do you know what it is? (Clue: each Elm was planted by one sister.)