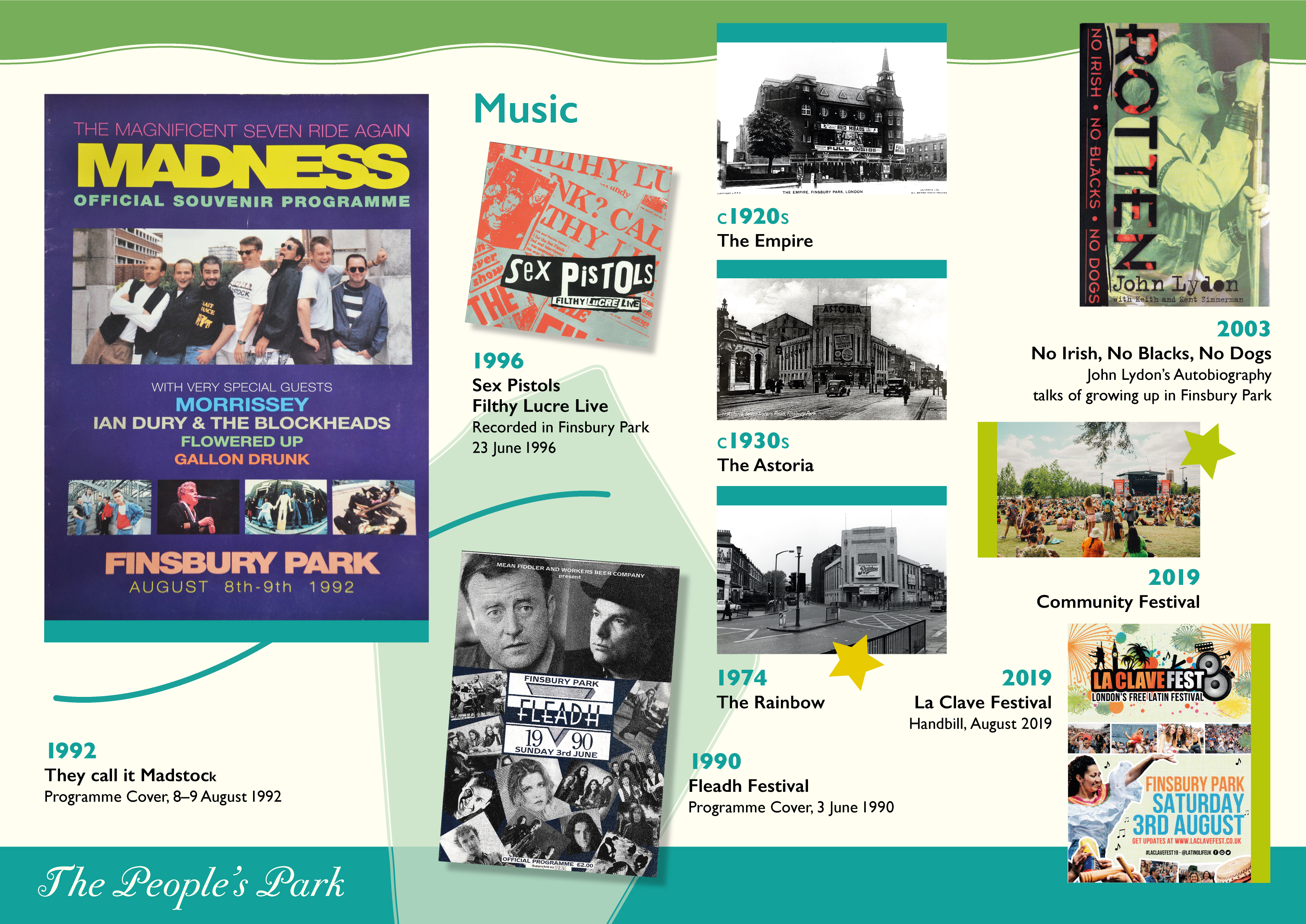 12. Music
Bands performed in the Park as far back as 1886. The surrounding locality has seen the development of a number of historic performing arts venues, including the Empire and Astoria, which was long known as the Rainbow.
The Finsbury Park Empire opened on 5 September 1910 with a programme of variety entertainment and music hall acts. On the bill in its heyday were 'Cheeky Chappy' Max Miller and N'Gai, whose 'amazing accuracy on international affairs has astounded this country'. The theatre closed in 1960.
The Astoria, built in the 1930s, still stands on Seven Sisters Road. Originally a cinema, it was transformed into a music venue in 1960. Jimi Hendrix burned his first Fender Stratocaster there, and in 1968 it was where the Beach Boys recorded 'Live in London'. Frank Zappa was seriously injured when pushed off the stage in 1971, and David Bowie played two nights of his Ziggy Stardust tour in 1972. Five years later the legendary reggae artist Bob Marley played the Rainbow, the live show later released on DVD to great acclaim.
A stone's throw up the road, a youthful John Joseph Lydon (also known as Johnny Rotten) was running around with his mates getting into 'brick fights', before becoming a founder member of the Sex Pistols and leading figure in the punk movement. The Sex Pistols subsequently recorded their 'Filthy Lucre Live' re-union show in Finsbury Park in 1996.
In June 1990 the Fleadh Festival was first held, with the Madstock Festival initiated by popular ska band Madness a couple of years after. This drew large crowds and a stage into the centre of the Park, heralding the Park's later use for larger events during the summer months.
One such, the Wireless Festival, has been located in Finsbury Park since 2014 and has grown into one of the UK's most successful rock, pop, hip-hop and urban music events. As it has grown in popularity, concerns about its impact on the environment and the local community have been taken up by the Friends of Finsbury Park, who initiated legal action against the Council to ensure that revenues from Park events would be spent within the Park, and address concerns about the usability of the Park for the local community and other Park users during major events.
On 3 August 2019, La Clave Fest – London's free festival of Latin music, cuisine and culture – took place in Finsbury Park for the first time. It was an open and permeable event with the main stage at the Manor House Gate end, and other activities stretching down along Seven Sisters Road.
The People's Park: augmented reality
As part of the exhibition we have created an augmented reality trail which you can access by using your smartphone to scan the QR code on the boards in the park. This allows you to explore a host of questions and images linked to the themes and stories on the nearby boards.
Do you know who this fresh-faced youth is with a Union Jack? (Clue: A Finsbury Park lad, he was the lead singer of the most famous punk band in the world.)